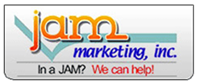 Step 1: Complete your profile and give us a way to pay you when you earn commissions.

Step 2: If you are a free member, upgrade now so you can add your affiliate id's to the JAM Id's section and the Recommended Sites section. You want to be able to earn multiple commissions as you promote the site.

Step 3: Grab the promo tools and start promoting. If you need suggestions of where to advertise to get more signups and sales, take a look at the advertising tools section and check out the sites we use.
Copyright JAM Marketing Inc. All Rights Reserved